Lipstick Pepper Spray
This lipstick pepper spray is a self defense product cleverly disguised in a regular looking lipstick case. It gives you the upper hand in a dangerous situation.
Ladies, don't ever feel afraid or not in control again. If he decides to make you feel uncomfortable or afraid, calmly reach into your purse or pocket, pull out what looks like your lipstick, remove the top and give him a blast of pepper spray right in the face.
Keeping yourself safe is everyone's top priority. Give your safety an extra layer of protection with the Lipstick Pepper Spray. A surprise weapon that can keep you from getting hurt or worse.
Pepper Sprays can not be shipped to New York, Massachusetts, Michigan or Wisconsin.
Lipstick Pepper Spray - Self Defense Weapon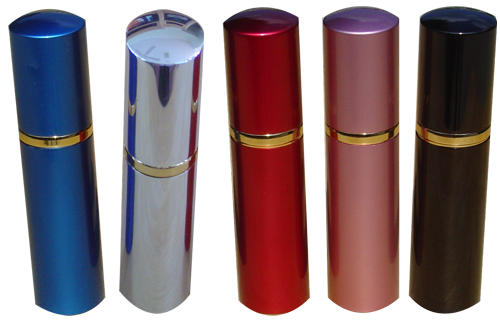 Designed for women, this powerful pepper formula is contained inside a common looking lipstick that houses a powerful self protection OC pepper delivery system. The Lipstick Pepper Spray is a convenient and subtle way to carry the protection you need into any environment in which you might find yourself. Contains 5 one second bursts and sprays up to 6 feet. Made by Pepper Shot, a proven and popular brand of pepper sprays.